Graphics may take awhile to load.
NEW KID ON THE BLOCK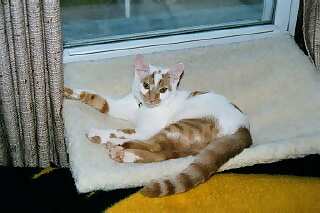 Here is my new baby, Chief. He is 7 months old and Bailey didn't take too long to start playing with him. Bailey wasn't eating too well cause she missed Skippy so much, so I had to do something and get her a new buddy to help ease her grief.

Chief was found by some firemen hanging around the station. They named him Chief, so I kept it since there was a reason he was named that. We got him at the local Humane Society and he is so gentle and loving. He is truly a people cat. I wondered why no one had adopted him yet cause he was so friendly. The only reason I came up with is, that Skippy knew I was going to need another little guy to love, so he made sure Chief stayed there until I found him. Thank you Skippy!
Hi, I'm Chief. I luff to pose fur da camera too, like my sisfur Bailey. Meowmie said dat my face looks like a big X is on it......lol....dat's da way I was born.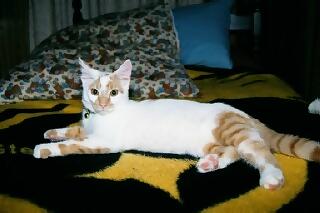 Dis is a full shot of me......hehehe. Meowmie says I have neat markings on my fur......whatever dat means!
Hmmmmmmm........I fink I got myself into a bind here.
Yes she did it to me again. Meowmie put doze antlers on me. She said dees are new ones, wiff lights, not real ones though.